So we continue our day at Marshall Gold Discovery State park...One of the main reasons I had really wanted to go to MGDSP is that there was a ghost story attached to it . I am very much into ghosts. I watch all shows that I can , movies if they are true suspense and not all blood , gore and shock ; true ghost stories in books are a fav and a constant night stand addition. I have been on ghost tours in Houston ( which I have some pics that will make you go hmmmm I wonder) and Albuquerque, New Mexico ( no pics from there , just good stories) and have one planned for Sacramento soon. I have lived in haunted places, and am pretty sure I have seen apparitions and I KNOW I have had many first had , make the hair stand up experiences; many of which I will share through the month of October.
In my pulling up research about the towns of Historic HWY 49 , I landed on a site that had a tab labeled "Ghosts" so of course I clicked. One of the stories was about a home within the state park, and well that became a must see. I had driven by this home many times, and never thought much of it. Just an old home. So here is the posted ghost story, then I shall share the pics and my experience there. As well as continuing the tour of the town.
The Argonaut - The Old Schulze House
Coloma, California
"This house was built in 1916 by Charles Schulze for his daughter Daisy, who visited Coloma occasionally. Schulze had been a miner, blacksmith, teamster and mason. In 1886 he fell heir to the Sierra Nevada House and became a hotel keeper. He died in 1921. After Daisy Schulze's death, this house was used as a residence by her heirs.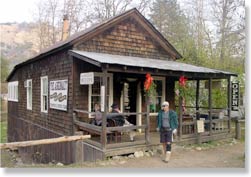 For the last several years the Schulze home has been used as a restaurant, coffee house, and all around social meeting place for local folk and weary travelers. Now called the Argonaut, owned by Debbie Zemanek and Silvia Hlavacek. Silvia is the owner that will greet you when you visit this historic site and share her moments of unexplained happenings as well as sightings from friends.
"It's the footsteps I hear that have become annoying" she says. "I will be working in the back of the store and hear someone come in the front. I holler out 'Be right there,' complete what I am doing, and race for the front to find no one in the place. This happens quite often. I have no answer for it, but it gives you a weird feeling."
Psychic Rosemary Dean picked up on one spirit immediately. "There is a wash woman here" she said. "Her name is Alice. Everyone seems busy to her and they do not pay attention to her. She comes here because she likes the smells, especially the coffee and espresso. She is a large woman and has a square face. She wishes someone would just acknowledge her. She is not a mean spirit, just lonely."
Dianne Parrish tells of her experience in the building. "I saw an older man walk over and stand at the window. He looked out, watching the trees. He was fat, and had gray hair and was wearing overalls. He seemed filmy when I saw him, not really transparent, but I knew something was weird about him. Then he just slowly disappeared." She held my hand. "I was afraid to tell anyone about him until now. I thought maybe I was losing my mind."
These are only a couple of ghost stories about the Argonaut I am sharing with you. If you would like to read about more ghost sitings, you can find them in the book The Incredible World of Gold Rush Ghosts. True Stories of Hauntings In the Mother Lode. Written by Nancy Bradley, Psychic. You can get information about Nancy on her website listed on this page. Or you can stop by the Argonaut and chat with Silvia, who knows, you may enter in to a ghost story of your own."
*This story and more taken from
http://www.historichwy49.com/ghosts.html
So what did I feel or see...Nothing. Maybe it was just too early in the day, perhaps I did not "provoke" or ask the right questions ...ghosts are not predictable. I have learned that, over all these years , and they certainly do not arrive on command. Although , I have had an experience to the contrary; that is a story for another day.
Here is the photos I took as well as a bit more info....this place is creepy inside as it is, but nada happened....not even the hair on my arms raised and often I have had that. No cold spots and no funny in the tummy feelings either. There is no longer a store within ...wonder if the footsteps just got too annoying or freaky??


"The Argonaut History
Schulze House
This house was built in 1916 by Charles Schulze for his daughter Daisy, who visited Coloma occasionally. Schulze had been a miner, blacksmith, teamster and mason. In 1886, he fell heir to the Sierra Nevada House and became a hotel keeper. He died in 1921. After Daisy Schulze's death, this house was used as a residence by her heirs."
It mentions the orchard...we found the orchard and the park lets you pick up to 5 pounds of fruit , we picked a few pears and I shall be making an almond and pear tart of sorts and sharing that soon. Here is a couple of interior shots...
I could only take photos through windows...so that is what the large white line through this last photo is from...a window frame. I got more "pricklies" from this place than the previous home, but perhaps that is just cause it was set up as if someone still lived there.We will never know.
We continued walking the main road and stopped at the school house....."
Coloma School House

There have been several school houses built and rebuilt where the Coloma School House stands
today. The final restoration took place in Sept., 1995. The building is now open to the public
for viewing due to the outstanding efforts of the Coloma Schoolhouse Restoration Committee.
There is also an intensive school interpretive program."
After the school house it was time to make the drive up to the James Marshall Monument....Here is what the web site says about the loop you can hike up there, but we choose to drive the one way , winding road....
"Monument Loop Hike
A difficult 1.5 mile walk which includes a 250 foot climb. You will see an area where Nisenan
Indian women ground acorns for food. Look for the mortar holes in the rock. You will pass
through forest and chaparral. At the top of the trail is James Marshall's Monument, built over
the grave in 1889. You will see Marshall's Cabin, The Noteware-Thomas House and the
stone ruins of the old El Dorado County Jail. Pick up a map at the visitor's center. Please stay
on the trail."
Here is the photos from the jail....
We then continued the drive up after stopping at the jail ,
where we knew there would be a church, a cemetery, and a reproduction of the J. Marshall house, placed where he lived out his life in the original. We parked near this lovely home, that was apparently a place where some of the employees of the park lived....
I took photos from all sides as well as the view ...and of course one of us ...always a must on any adventure! Now remember that this was the very same monument that I mentioned in part one and showed a pic of as well. It was the VERY FIRST historical monument in the state and it sits way up on a hill above the town. It was built over the grave in 1889.
( I so need to get out and buy the eye pulse /eye cream on the next pay day and sinus pills and oh I need more sleep...GHADS!)
I walked over to the cabin and took a few shots as well ....only one interior shot turned out. And there is definitely something in the photo that will make you say "hmmmmm, I wonder" This cabin may be a reproduction, and maybe it was just how isolated it was and the weather, but THIS place gave me a bit of the prickles as well. All photos as I mentioned turned out blurry as well...other than these two. Look closely...is it just a trick of the light and shadows , or do you perhaps see James Marshall near the chair....
Look at the haze over the chair, look on the wall...I will say that it may look like a water stain and the texture of the wood...but when I looked at the same view with my own eyes, there was no water stain on that piece of wood. Also notice how the haze is in front of the chair and ends at the floor at the end of the light/shadow made from the window....again, just something to consider.
Now look at these signs with photos of James Marshall in them....again, made several people who saw these photos say "hmmmmm, interesting." Also note, I was not standing in the window , nor was hubby when I took the shot...I stood to the side as to not cast a reflection like the ones you see below.
While at the top of the hill and before heading all the way down, we stopped at the St. John's church CIRCA 1858, and then the adjoining cemetery as well as the surrounding area....
I always find places of rest more peaceful than scary, even haunted ones, like one that I went to at
NIGHT
, was to me very peaceful.... I noticed here, it was the same thing, just peace and quite...restful if you will excuse the choice of words. It was well maintained as well , someone has put plastic flowers at nearly all the graves....
After paying our respects and taking our photos, we headed on down the hill back to the main road , it curved around in and out of the trees and around other historical buildings and private homes.... we stopped to take a photo of a covey of Quail , that is what the "black dots" are in the second picture...wish I had a better zoom !
Soon we came down to the bottom of the hill and headed for the orchard to pick our pears. I will share the photos of the orchard, the surrounding wild life we spotted and even a recipe that I will be using to make something with the pears in tomorrow's post. So until then....I urge you to go out in your own "backyard" and seek out an adventure of your very own!