well I am stuck
. So not very inspired to post about it. Though today when I was walking and letting my mind wonder, I came up with a few ideas. I plan to change the day I check in, rename it "
Checking in and Checking out
!" It will still be a girly post, but I shall try out and report on as I can, new beauty products, discuss hair, fashion when I can sneak pics or find ones I like online...and once in awhile of course check in on how I am doing weight, diet and exercise wise. Inspiration came just from walking by Ulta Cosmetics and thinking to myself that I want a new eye shadow or nail polish or something
VERY SOON
! I recently started getting my acrylic nails done....my Mom is being so kind and paying for them ! Otherwise it would not happen....still can not afford pink and whites, so for now it is white tips , clear acrylic and a coat of UV gel so they stay shiny...but soon the white tip will be all grown out, and it will be cheaper to get painted acrylic, so perfect time to try out some new nail polish , colors, types etc...
how is that for being inspired
???
Fridays have been for two months now French Girl Friday. I went on a walk towards Anthorpologie with all intentions of buying the Coco Channel book full of quotes and how they relate to life. I never made it. Simply getting out for a second walk was about as inspired as it got towards that goal. nearly three miles each way, or just under two. Hmmmm, guess which won? Instead I stopped in Barnes and Nobel and I picked up Tim Gunns new book "
Gunn's Golden Rules Life's Little Lessons for Making it Work
" ....
WALA
I was inspired. Not sure I shall stay with it being a Friday thing, but it shall be my next weekly musings upon. There is 18 gem filled ( I hope!) chapters! I am not entirely sure without looking at the book how to "
make it work
" for my purposes. It may just be a the title of each chapter, one or two little witty quotes and then how I am implementing them into my life. It will be a take it as it comes adventure, and who knows may even inspire other posts.
I also have not been inspired all week to post the latest "
Hard Hat and Pearls Adventure
" . Mainly, truthfully, I was semi disappointed in the tour, and the one place I wanted photos from , we were not allowed and I also have been ill all week, and simply did not have the energy to sit and write, and edit and upload photos. I promise I shall post it. I am shooting for tomorrow. I think you will enjoy it , those of you who have been addicted to the series of adventures and daycations around Northern California. Though I am starting to be uninspired from the daycations as they all seem the same...I need to figure out how to shake it up again. No worries, I shall continue to post them , it is at the very least a way out of the four walls, one can hardly expect to get inspired if you never go out into the world right???
I think much of my lack of inspiration has been fueled by my health issues. This was a very hard week on me, and to have it land upon the heels of the
RE
realization of how very bad my dental woes were ...all I can envision is that of me loosing my teeth ( not hard to imagine as some are loose and they all hurt) in the very near future and being unable, even with insurance to afford partials/dentures or whatever else is needed. Of course if it was just my back teeth, it might be ok, I might be able like my Mom does to live without teeth where most people do not notice and I could still smile and not be ashamed. But it is, as I have mentioned before my bottom front teeth. I have become obsessed. It is all I pray about, it is all I can think about. I stand in front of the mirror and I practice smiling and
NOT
showing my bottom teeth...it is VERY hard. I also think " Will my husband still want to even look at me when I am toothless???". I know he will , or at least hope he will. But he already puts up with so very much of my "issues" , it all seems very unfair to ask this of him too.
It is not all my health's fault, the dental thing. Five years ago, we had money. Lots of it. Well, enough. I had built up such a fear of dentists as it so happened that 17 years ago I got the first bad report, despite my regular visits to the dentist and all the flossing and brushing and swishing that I had talked myself into never going again. We instead spent the money on remodeling our home, landscaping , travel, going out A LOT, buying new clothing , re-decorating and then doing it all again. I could have had my dental implants, or dentures or periodontal surgeries....but instead I played the role of the Ostrich . The dental pain that has been building and building and the visit that I recently had, well it yanked my head right out of the sand! But in doing so I am trying to take action. I have as you can see over to your right posted a link to write letters into Ellen. I write her weekly. I have written to other talk shows,
BUT Ellen is at the TOP of my list!! She always inspires me with her WONDERFUL smile, her honesty, her humor and well dancing over that table each day...quite impressive! I also admire and am inspired by her heart and soul and kindness. Hey she even inspires me to want to try using the Cover Girl cosmetics she is the spokeswoman for. Every day ( that I can ) I tune in and watch, laugh out loud and yes, even dance ( when no one is looking) . I have read one of her books and wish to see if she has another ....I even have seen her movies and used to watch her TV show and if she guest hosts a show I watch..and when she was on the front of Oprah's magazine , I bought. So she is the natural choice for me to write and ask for such a HUGE thing! Hoping as she puts it that she will " ROCK MY WORLD" ! Can you imagine how it would not??? Besides an extreme makeover , it would be like meeting a hero, and she is one of my heros for sure!!
Is it ballsy of me ? YES! Is it a bit vain of me to think any of you readers would write in on my behalf, when I am sure many of you are in need as well, and also to write in on the form of nominating an amazing person in your life as well?? Well, YES, it is . I mean you do not know me, not really. And you may not think I am amazing at all, or not in the right ways. BUT, nothing ventured , nothing gained. I dunno if it will do any good. But I have to try. I had to swallow my pride and dignity and even if you do not believe it vanity to put in words all that I am going through and then beg for people, complete strangers to write in to beg a TV talk show host to give me an extreme dental make over . I mean look at what it would entail! She would have to pay or get a dentist to pro bono either dentures or implants ( if I even still have enough bone to attach them to) . She would have to pay to have me flown to the show, put up in a hotel, for however long it takes for the dental makeover.... as we barely have gas money etc enough for daycations. We are talking about a lot of green backs here. It just may be outlandish to even hope for such a God send. BUT I have to try. I have to leap in without looking, both feet, no reservations on what it might make me look like or entail or how it will change peoples views of me ....I must take the risk. I am taking the risk. I was somehow inspired, by an inner voice, be it from God? Or just me to do this, to ask , to push, to risk pushing away readers, friends, family. I need to believe that I have hope. That I am worth a miracle, even on some level I still believe I am not worthy and there are others in more need. The desire for a beautiful smile,that does not hurt when I am just sitting, when I eat, when I brush...a smile I am proud to flash at every living soul screaming "LOOK AT ME!"
This is also a huge leap of confidence for me. I am shy. Oh sure it may not seem like it here in the safety of blog world, or Facebook. But I am . Painfully so. I am also gun shy at getting hurt by others, and so taking the risk of negative feed back, well that took more guts than you will ever know. I put on a pretty good act time to time, but trust me I am always quaking in my shoes! I can not even imagine how I will feel if I get the fateful call to be on the Ellen show, and of course have my story told, have cameras follow it and then appear , needing to dance out onto stage and be in front of all those audience members....I shall have to dig deep for that particular inspiration ! But it so would be worth it! In a perfect world I would also get a fashion makeover by Tim Gun LOL Now that would be inspiring!!
So you see I have not been able to think of anything else, and because of that , inspiration has been NILL. Not just in the blog and what to write that is not a compliant and a woe, but also just in myself or life in general. I always know I am in trouble when I want to cut my hair a lot.... thinking it will give me a new lease on day to day life. Hello short pixie cut .....
which by the way I want to go shorter, and just leave the bangs long... or not .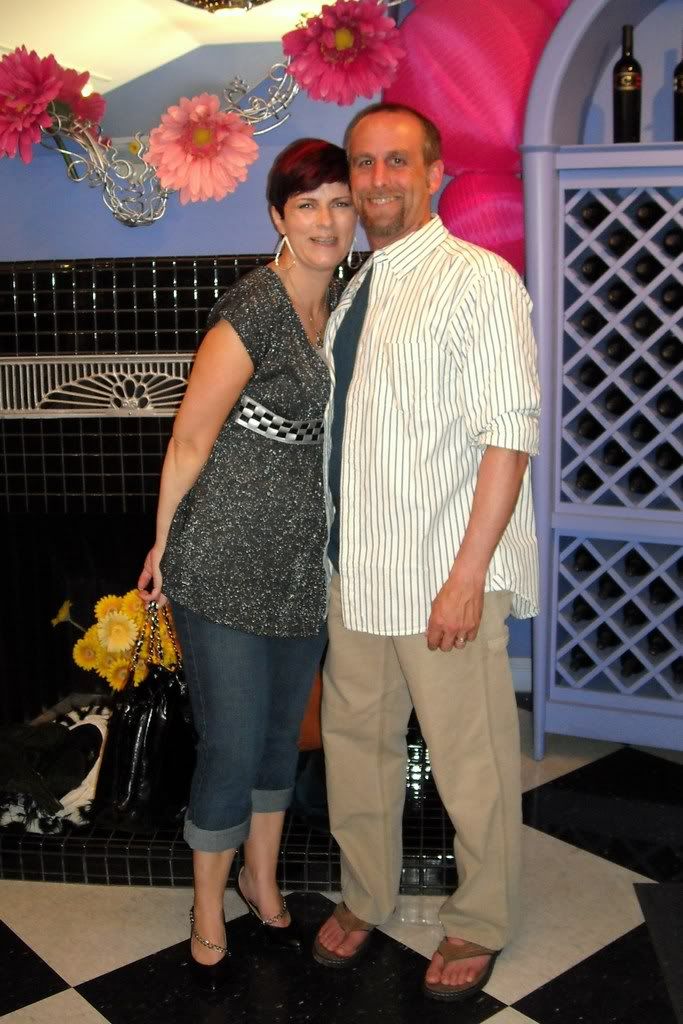 I have even been contemplating going red again
What do you all think??? Rebecca, my daughter who does my avatars refuses to do them over in red hair ...guess she knows I am fickle. She also used my own words against me saying" I felt more like me" to be brunette. Darn her and being a little memory machine!
I have also been lacking inspiration in all other areas of my life , from what I eat, to what I wear, even already been slacking with the face creams ( if you have been keeping up on that journey) ....seems life has been just one big
SIGH
. I simply could not take it anymore, could not face sitting on the couch and playing the GLEE Season One DVD..it is growing on me but..... so I took a look at many wonderful music videos today, and then took a walk....as I mentioned. Though I only found a couple new inspirations for things dealing with the blog, It is a start right???? It may even lead to more !
What do you do when you are not finding any inspiration in life??While you are contemplating that , I shall be contemplating how I have been looking at the world....do I see what really is in front of me or does it get askew for the better or worse??? Optimist or Pessimist, Glass half full or half empty??? Oh and one final thought.....I really do want my Dog Day's to be over! I want to be hit in the back like a bullet with happiness! I am doing what I can to make that happen! This song always inspires me to hope!